by Lazarus Black
Partly true.
I have 500 pages researched and written on the History of Northern European letterforms called Runes, attempting to solve the problem of their origin. It's not published yet, as I keep getting distracted by life and other projects, but it is and will be one of my crowning achievements.
Simply put, the Runes don't fit into the expected model of a script adopted from another language to fit an existing one. Yes, there are holes in the historical record that could be filled to support that, but I doubt it. The Runes show all of the hallmarks of being an Invented script. Less than half of the letterforms any kind kind of evolution from another, but every potential origin has irresolvable conflicts. For seemingly no linguistic reason, new letterforms were invented or moved to completely different phonemes - even when there was no legitimate reason to do so. At first glance, the Rune for the "M" phoneme appears to be very close to the letters for "M" in previous scripts. But it IS different. What makes that a problem is that the Rune for the vowel "E" looks exactly like the letter "M" in previous scripts. And those previous scripts have a completely different letterform for the "E" vowel. Why? And why does the N-Rune not match anything before it? And why do all the supposed origins of the P-Rune match other runes closer? The U-Rune is constantly compared with "V" and other early letters — but that comparison obfuscates how much closer it looks to "N", "M", "L", and even "D". Sure, the O-Rune looks like Omega, but the A-Rune looks like early versions of "S", "N", "M", and "Ï" for seemingly no reason whatsoever.

To illustrate all of these issues, I mapped out the letterforms according to their phonetic use (Something I've never seen an epigrapher do before). This chart is the heart of my work. It's incomplete and imperfect, but every linguist who has looked at has been stopped. It only makes sense if there was another reason for the shapes of those letterforms. And as a graphic designer who has studied, dissected, and constructed countless visual symbols, I found one very compelling solution. And either someone in the past was extremely clever (likely) or I've twisted their invention into something equally as clever (likely).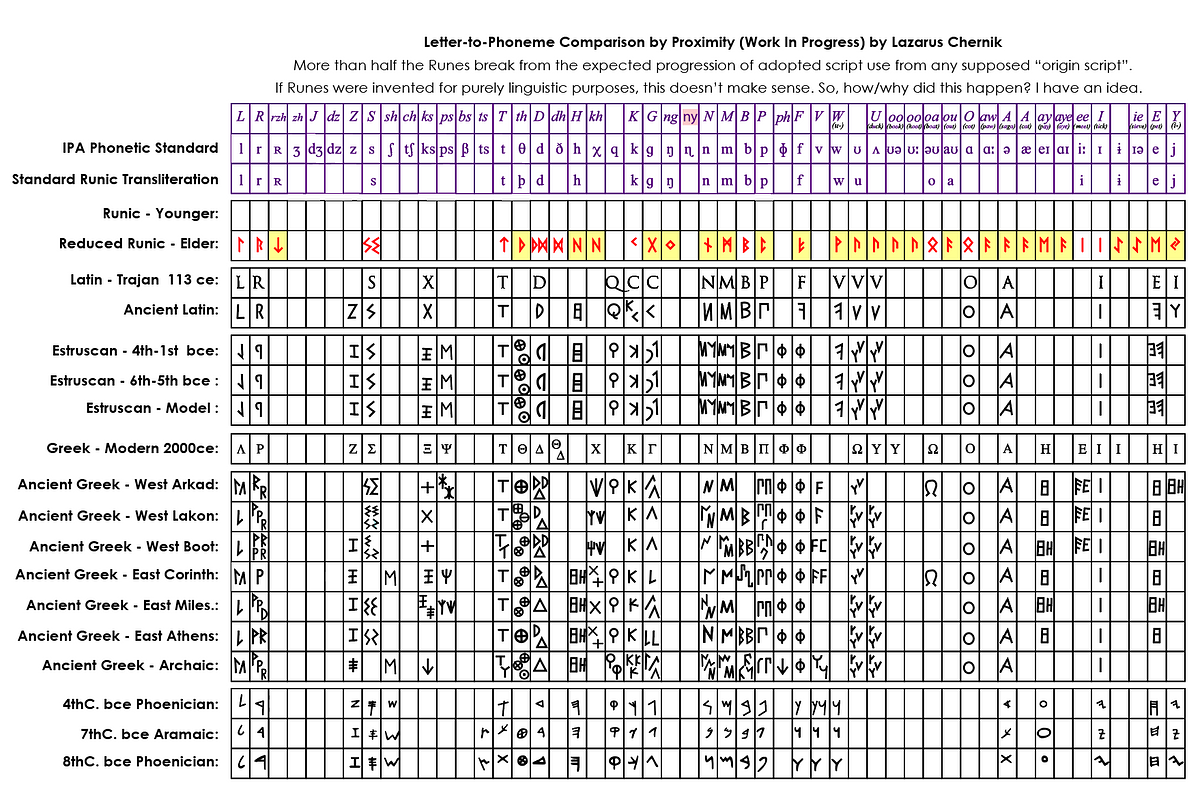 Before the 21st century, many believed the Runes to be adopted by Goths or other Northern European around 200bce-100ce from one of the "more obscure" North Italic scripts used for some regional language or dialect. But that constantly fell apart from both lack of evidence and clear visual discrepancies that seem to defy logic (and some people just accepted that logic wasn't part of its evolution).
However, unlike historians, linguists, and even most epigraphers, I am an exceptionally well-trained and experienced graphic designer, with a degree in visual communication and a long career in the practical design and application of visual symbols to communicate ideas. Extremely few people who have looked into the origin of the Runes have this training at all, let alone mine. And I've yet to find anyone with my level of proven experience. Seriously. Not even Ton Hanks' character in The Davinci Code could claim that (plus, I don't think Dan Brown knew that Epigraphy exists when he wrote it).

Putting my all into the task, I discovered evidence and developed proofs of a theory of origin. Actually, I offer two — but both include the same radical conclusion no one has yet been able to argue against. You see, I am not presenting history as much as science. One can debate history all one wants - but one cannot deny water freezing into ice when you see it. When I show the people what I've found, they will have to investigate further down the same rabbit hole than I went down and will most likely come to some variation of the same conclusion.
But right now, I am focused on writing fiction. I just happen to have this incredible love for language and scripts that led me to study and decode lots of cultures distinct from my own, and I love bringing that passion to my readers.