by Lazarus Black
I have ADHD and found that being organized helps me a lot to perfect my stories. So, I created this spreadsheet to help me concentrate all my notes. I might write notes other places during the day (dictation, text message, notes app, cocktail napkin, etc.) but I try to move everything over to my spreadsheet before each writing session so I don't forget anything. If this helps you, then please use it. While made in Microsoft Excel, it can be uploaded into Google Sheets and used for free.
Download the template for Microsoft Word by clicking here: https://files.pixpa.com/671957...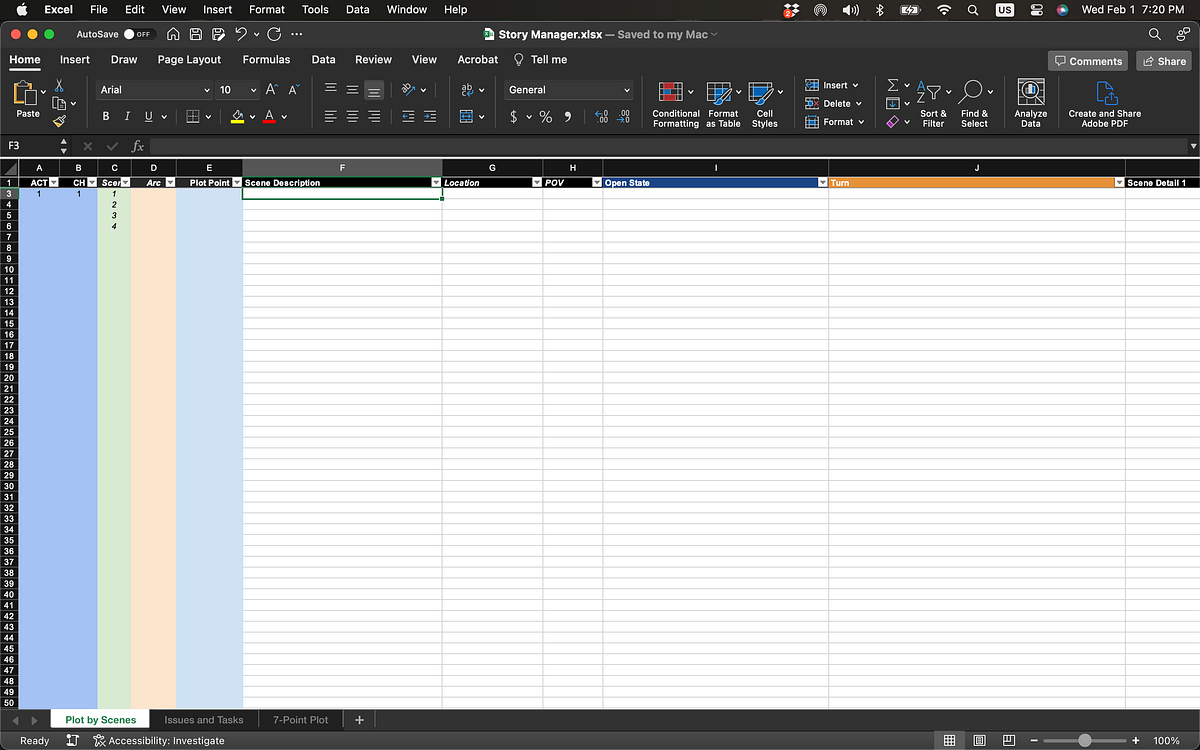 First Sheet: Plot by Scenes
I am one of those freaks who plots. But I plot by pantsing my scenes out first. Afterwards, I rearrange my scenes to make the best plot. After that, I pants each and every scene.


In the example, I wrote out four scenes across two chapters in the first act. I wrote the scene description to give me an idea what what is going on, then its location and whose POV its from. Then I wrote down the open state and turn (reversal) of each scene. By definition, the turn must be some version of the opposite of the opening state. The first scene begins with the villain purchasing a bell - and everything seems normal. The scene ends with her going insane and killing the seller. This is not detailed, of course. I have all those details in my head, so when I sit down to actually write it, I just let it all flow out in an exploratory session. As long as I reach the Turn I was aiming for, I succeeded. Of course, sometimes that exploration can produce elements that alter the plot, and I have to manage those carefully. That's what the second sheet is for.
Second Sheet: Issues & Tasks
As I ponder and write and edit, things will pop into my head that I need to address. Some are more important than others. Some are critical. Some are flat out stupid. But rather than risk mistaking which is which, I collect them in this little sortable form.

Column A: Complete? (Did I resolve it? How? Y=Yes. N=Maybe Won't. X=What was I thinking? Next Book. These will auto color the rows.)
Column B: Priority (Numbers. If the cell matches the "Working On:" cell, the row will turn green. That makes my task list for the day.)
Column C: About (What is this about? General category I make up on the fly. A name or place or concept or whatever.)
Column D: Issue or Question: (Details about what needs to be addressed.)
Column E: Where (Global or a chapter number or scene.)
Column F: From (Sometimes I make long notes to myself in dictation or a note program.No room here, so I just say where the note is.)
Third Sheet: 7-Point Plot
This plot structure goes by many names, and is amazing for short works and film. I learned it in screenwriting class, but I've also read a great manual by Algis Budrys titled "Writing to the Point."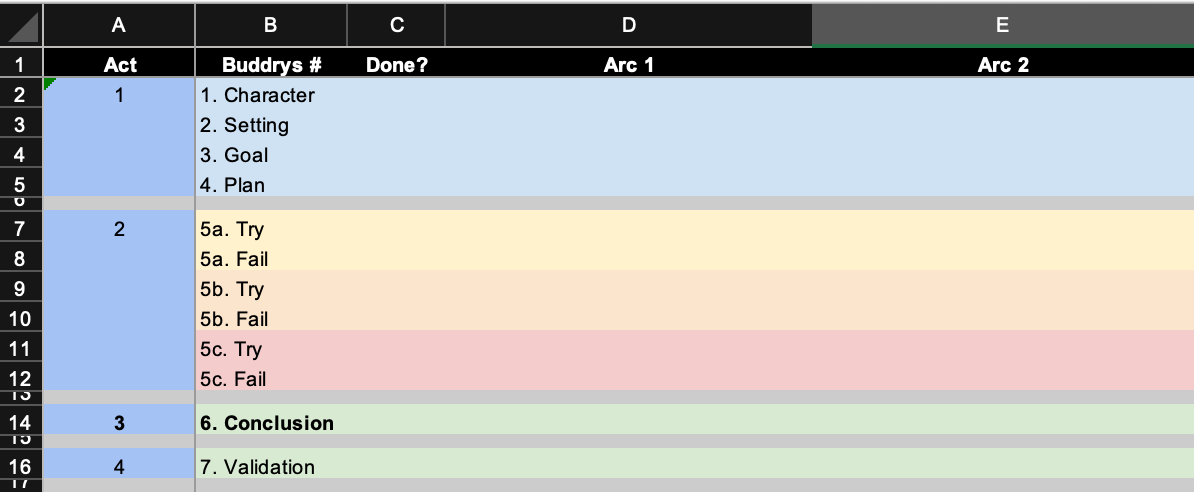 The 7-Point Plot consists of:
Character (Who is the Protagonist?)
Setting (Where/When does the story takes place?)
Goal (What is the Protag's goal and what must they overcome to achieve it?)
Plan (What is the Protag's plan to achieve that goal?)
The Fifth Point is the Process and is broken out into at least three scenes. Each of these scenes has a Try/Open state where the Protag tries to implement their plan, and the Fail/Turn where that plan fails.
The Sixth Point picks up immediately where the third fail happens - even mid-scene. It is the climax that concludes the entire story - where the Protag has learned all of their lessons to this point and makes one final epic try... Whether that final try is successful or not is up to the storyteller.
After the final try, there is often (but not always) some kind of denouement where the reader is convinced the story concluded correctly. There are many ways to do this.
I will sometimes writer out a 7-point plot for every one of my arcs (aka sub-plots), before weaving them together. In the first sheet, I denote those in the arc column.

Good luck!